Ridge Inspection
Visual Inspection AI Solution
OVERVIEW
Integrated support for the automation of visual inspection, including cameras, lighting, and AI implementation.
Although there exist a variety of solutions for automating visual inspection, there are still a number of inspection targets and processes that are difficult to automate, such as scratches on shiny products ( transparent resin, metal, etc.) and small scratches that cannot be seen without looking closely. This is a major challenge to address as the shortage of human resources and the shift to smart factories accelerates.
This comprehensive solution combines the high-precision, high-resolution image analysis AI of Ridge-i, capable of learning with only a small amount of training data, with the advanced optical, imaging, and image processing technologies of Ricoh Company, Ltd. to detect previously invisible flaws and achieve one-stop labor-saving and automation.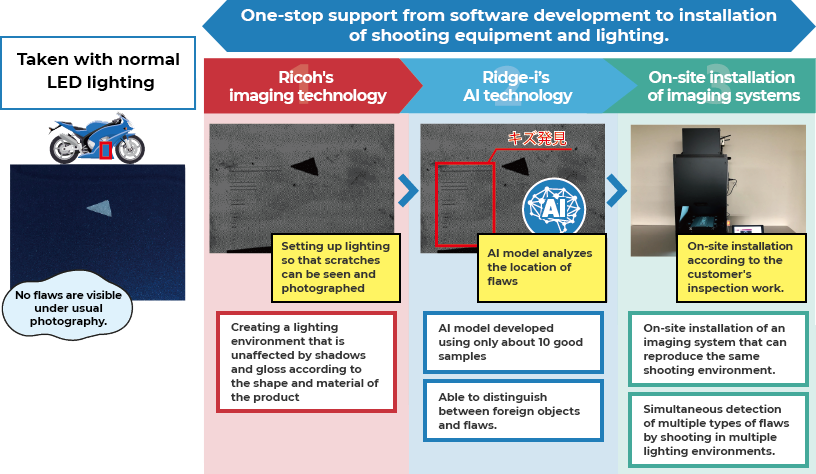 BEFORE AND AFTER
Optimal image capturing technology coupled with a highly accurate AI model can detect previously undetectable flaws.
Ridge-i's highly accurate AI model was developed based on 10 to 100 good images and a few images with flaws, and can detect a wide variety of tiny flaws. Our unique technology, able to learn from a small amount of data while achieving high accuracy, is capable of automatically detecting flaws as small as less than 1 mm, including flaws that are very similar to surface patterns.
In addition, Ricoh's advanced optical and imaging technologies allow us to create a lighting environment that does not produce shadows or glossy surfaces that may otherwise occur during shooting. Even scratches on glass and metal surfaces, which would otherwise be obscured by light reflection in normal photography, can be captured.
Thus, by optimizing the configuration and tuning of the lighting and the AI to match the object - instead of relying solely on the accuracy of the AI - we were able to identify defects in items that were previously difficult to process automatically.
CASE
Construction of an imaging environment from scratch for defective inspection of metal painted surfaces
Labor-saving visual inspection of transparent resin cases using an imaging system.
Identification of combustion status, turbidity of waste oil, and other objects in motion (scene classification and anomaly detection in video)
01

Detection of dents on metal surfaces

Detects dents that could not be seen with normal lighting

02

Scratch detection on painted surface

Even scratches on shiny painted surfaces can be detected

03

Dirt in a narrow slot

Capable of detecting defective parts even in poorly illuminated slots

04

Detecting defects in a difficult target environment.

Capable of detecting defects as small as less than 1 mm in size even in challenging transparent materials.
FLOW
Case1:apply for a free initial review
Our AI solution for visual inspection provides one-stop support for automation, from the selection of photographic equipment and lighting to the installation of the imaging system on site.
It solves the problem of inconsistencies in quality check results among inspectors and realizes a highly accurate visual inspection process that prevents defective products from being missed.
In addition, on-site installation can be performed according to customer requirements, such as remote and centralized inspection operations and integration with handling equipment.
The budget can vary widely depending on the object, the difficulty of the flaw, and the scope of the study (whole line design or only replacement of the analysis algorithm).
We will first conduct an initial study free of charge before full-scale development. Please send us an image of your product via our web form, and we will examine whether your visual inspection can be automated or not, free of charge. Please feel free to contact us.
(You will be redirected to the "Ricoh AI Image Testing Lab" website)